Automation Setup
Java Install and configuration
(Install by following this video: https://www.youtube.com/watch?v=y6szNJ4rMZ0 ) OR
Check if Java JDK already installed by using command " java -version" in the terminal. If it returns with a version number that means java is already installed.

If not installed it will show a window asking if you want to install java. On that window click More info.


Once https://www.oracle.com/technetwork/java/javase/downloads/index.html opens in a browser select the latest Java JDK.


Accept license agreement and click on download for MacOS (this should trigger the download of a .dmg file).

Once downloaded double click on the file and follow the instruction on the installation screen.

After you get "Install Succeeded" close the window.

To check it was installed successfully, open terminal and enter command " java -version". You will now see it return installed Java version.
Next JAVA HOME needs to be setup. JAVA HOME is the environment for JAVA. It means that you are providing a path for compiling a JAVA program and also running the same. So, if you do not set the JAVA HOME( PATH ) and try to run the program in the command prompt. You will deal with an error as javac : not recognized as internal or external command.
First, check if JAVA_HOME is already setup:
In the terminal enter command " echo $JAVA_HOME" , if this doesn't return anything that means it is not configured.
To configure, open .bash_profile by entering " open ~/.bash_profile" (Note: If .bash_profile doesn't exist follow the instruction below on how to create one)
Enter " export JAVA_HOME=$(/usr/libexec/java_home)" and save the file.
Quit terminal and open it again.
Enter command " echo $JAVA_HOME" and if it returns a path then you have installed and configured Java JDK.
Creating .bash_profile
bash_profile is a configuration file for bash shell. When bash is invoked as an interactive login shell it first reads and executes commands from ~/. bash_profile. ... This file can be used to export variables in shell. You can put your variables in ~/.bashrc also apart from bash profile.
Open terminal to check if .bash_profile exists. Use command " ls -al" on your home directory. (Command to go to your home directory. " cd ~/" )
The above command will populate a list of all the files under that directory. Check if a file with name ".bash_profile" exists here.
If not, then enter command " touch .bash_profile" to create your new file.
To check if it got created. Enter command " ls -al" and check the list to see .bash_profile created.
Downloading Eclipse
Eclipse is an integrated development environment (IDE) used in computer programming, and is the most widely used Java IDE. It contains a base workspace and an extensible plug-in system for customizing the environment.
Open https://www.eclipse.org/downloads/packages/ in a browser.

Once the download completes, click on it to open installation.

Drag and drop Eclipse in the Applications folder.

To check, go to finder and click on Applications.

Double click on Eclipse icon and click on open when security popup displays.

Follow the instructions to set the workspace path and click next.

Verify eclipse is launched.
Appium installation
Appium is an open-source tool for automating native, mobile web, and hybrid applications on iOS mobile, Android mobile, and Windows desktop platforms.
Open http://appium.io/ in a browser.

Click on Download Appium.

Once download is complete click on it to open the installation window.

Drag and drop Appium into the Applications folder.

To check, go to Applications folder.
Install Node
Node.js is a JavaScript runtime built on Chrome's V8 JavaScript engine. Node.js uses an event-driven, non-blocking I/O model that makes it lightweight and efficient. Node.js' package ecosystem, npm, is the largest ecosystem of open source libraries in the world.
Open Terminal and run command "node -v" to check if node is already installed. If installed it will return version number.
If node is not installed then run command "brew install node"
If brew is installed and needs update, run command "brew upgrade node"
Configuring WebDriver User Agent Project
Useful link: https://github.com/appium/appium-xcuitest-driver/blob/master/docs/real-device-config.md#basic-automatic-configuration
In the terminal run command "brew install libimobiledevice --HEAD" to install libimobiledevice

In the terminal run command "npm install -g ios-deploy"

Open WebDriverAgent project in xcode. (This xcode project file is installed with Appium installation. You can locate this project file: /Applications/Appium.app/Contents/Resources/app/node_modules/appium/node_modules/appium-xcuitest-driver/WebDriverAgent/WebDriverAgent.xcodeproj )

Change the Bundle identifier to a unique identifier and correct code signing.

Change the Bundle identifier to a unique identifier and correct code signing.

To add a unique bundle identifier, change the Bundle identifier from "com.facebook.wda.lib" to a unique one such as "com.vokal.qa.wda.lib" in the identity block.


For correct code signing, under signing block make sure "Automatically manage signing" is checked.

Click on team dropdown and select option Add team. Follow the instructions to sign in with your Apple ID and once done exit out of that window.

Now on clicking of "Build Settings" tab you should be able to see following screenshot. Compare and make sure the settings match with this screenshot.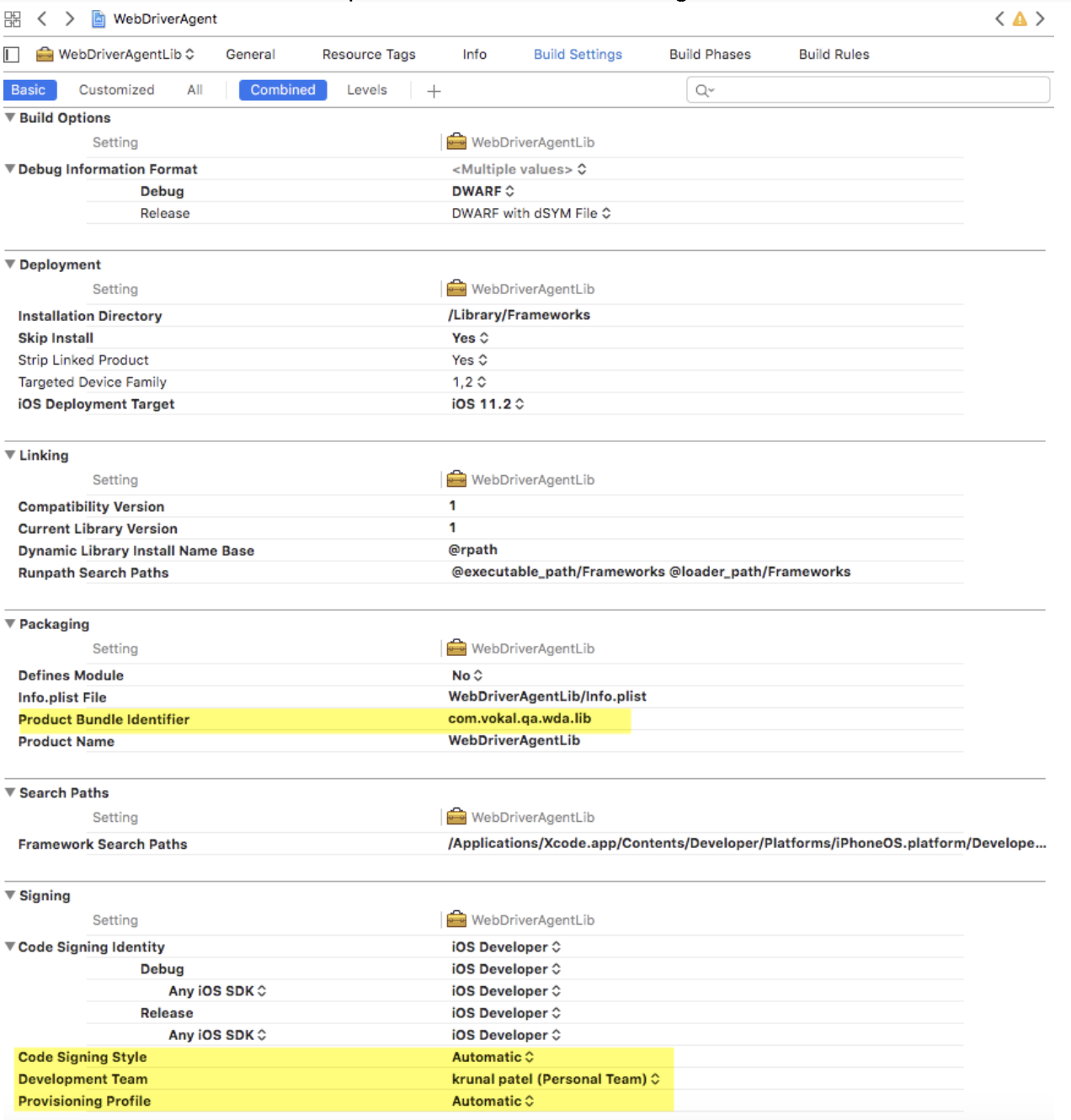 Build the project on an actual device by selecting your device as shown in screenshot below and hitting play button.


Once the project builds successfully, run following command in the terminal and check if WDA got installed on the phone.
"xcodebuild -project WebDriverAgent.xcodeproj -scheme WebDriverAgentRunner -destination 'id=' test"
Project with Maven
Apache Maven is a software project management and comprehension tool. Based on the concept of a project object model (POM), Maven can manage a project's build, reporting and documentation from a central piece of information.
Install Maven.
Download the latest Maven zip folder from: https://maven.apache.org/download.cgi


Create folder with name "apache-maven" at /usr/local/ (Terminal command sudo mkdir apache-maven)

Copy the downloaded folder from Downloads into the folder created in above step.

Open terminal and type in command "open ~/.bash_profile"

Add M2_HOME and PATH as shown in the screenshot below. (Note that maven version you downloaded may defer and need to enter correct version number)
- export M2_HOME=/usr/local/apache-maven/apache-maven-3.6.0
- export PATH=$PATH:/usr/local/apache-maven/apache-maven-3.6.0/bin


Quit terminal and restart.

Enter command "mvn -v" . Verify the version number that was downloaded is displayed.
Install Maven m2e plugin for eclipse